This page has been reconstructed from a cached version of the original, which was a part of the now defunct Fuzz, Acid and Flowers web site. We do not have access to the original header and footer graphics.

Fuzz, Acid and Flowers, by Vernon Joynson, is a book comprising "an encyclopaedic guide to U.S. rock and pop from the early-60s to mid-70s covering garage, psychedelic and hippie rock." At one time, the entire resource was online.

The original site went offline some time in 2005. The cover below is from the original U.K. print edition; this reconstructed entry is from the online edition. A revised version of the book is currently available, published by Borderline Productions.

Click on the blue links to hear sound clips.


---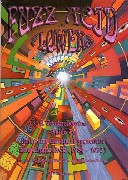 Dennis Coffey and the Detroit Guitar Band - Colwell-Winfield Blues Band
* Dennis Coffey and Detroit Guitar Band * Linda Cohen * Cold Blood * Cold Sun * Coldwater Army *
* Cole and The Embers * Collage * Collective Star * The College Boys * The Colony * Coloring Book *
* The Colors of Night * Colours * Colours * Steve Colt * Columbus Circle *
* Colwell-Winfield Blues Band *
---
Personnel:
DAVE BEABER
gtrs, vcls
A
ERIC GULLIKSEN
12 str gtr, bs, vcls
A
JACK McKENNES
banjo, bs, vcls
A