Click on the blue links to listen to sound clips of Alan's work.
We'll be adding more of these as we locate them.
Note that these clips are NOT tallied for inclusion in the Orpheus Reborn Monthly Top 75 chart.
Orpheus Reborn Home Page
---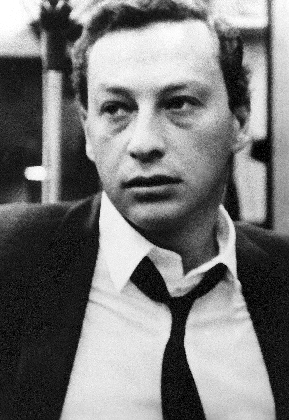 ALAN LORBER
Arranger / Producer / Composer - Leading arranger in the early '60s, having made over 2,000 recordings, Lorber was responsible for having generated over 60 million dollars in sales. He created innovations in classical / rock fusion, East / West and jazz / fusion, with the ability to write for most genres. Lorber was the first arranger from New York City to record in Nashville (1963), bringing his New York-style arrangements to Nashville "picking." Later he brought various Nashville rhythm sections to New York to record with his New York musicians. Lorber worked with all of the top New York record producers, top artists and labels of the day. During the late '60s he established the now historic rock phenomenon, the "Boston Sound."


(Click here to read Lorber's article Something Called The Boston Sound from Goldmine magazine, April, 1992)


Lorber currently composes and records new classical and jazz / fusion concepts, continues to produce and contribute to the worldwide reissues of his vast discography, and serves as producer and creative director of his Iris Music Group music publishing companies and record labels.


(Click here to browse a partial Iris Music Group CD Catalog.
The full catalog can be found on the IMG web site.)
(Click here to listen to In The Garden Of Dreams by the Alan Lorber 21st Century Orchestra.)
CAREER HIGHLIGHTS
1. With Phil Spector: Every Breath I Take (Gene Pitney) (listen) is historically documented as the real beginning of the "Wall of Sound." Lorber also recorded 30 other Gene Pitney recordings for Musicor including hits such as I Must Be Seeing Things (listen). He also created the arrangements for Pitney's 1962 San Remo Festival appearance, in which his song was the winner.

2. With Leiber & Stoller: Among the many sessions in which Lorber collaborated with this famous team, Mike Clifford's Top 10 hit, Close To Cathy (listen), various sides by the Coasters (listen to The Slime), and the innovative Clovers hit, Bossa Nova (listen), are standouts.

3. With Nevins & Kirshner: Lorber, as Music Director of the Aldon Music stable of artists, created hit singles for Neil Sedaka, including the #1 single Breaking Up Is Hard To Do (listen), Happy Birthday Sweet Sixteen (listen), Next Door To An Angel (listen) and twelve others, producing over 7 million units sold. Lorber also recorded albums and singles for Tony Orlando (listen to Dream Lover and My Baby's A Stranger) and Barry Mann (listen to Foosteps) during this period.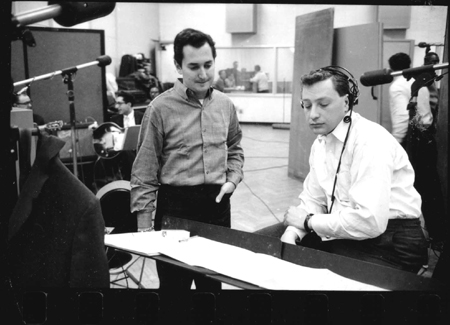 Alan, with Neil Sedaka


4. With Luther Dixon: Dixon, as A&R Director of Scepter Records, commissioned Lorber to record Mama Said (listen) and Thing Of The Past (listen) for the Shirelles, I Wake Up Crying (listen) for Chuck Jackson, Human (listen) with Tommy Hunt, and Killer Joe (listen) for the Rocky Fellers. Lorber also made the hit follow-up albums for these respective artists.

5. With Shelby Singleton: Singleton, at that time, was A&R Director for Mercury Records, for which Lorber made Clyde McPhatter's classic Deep In The Heart Of Harlem (listen) and the famous follow-up album Songs Of The Big City. It was Singleton, originally from Nashville, who brought Lorber there to record Teresa Brewer (listen to Simple Things) and Brian Hyland (listen to Here's To Our Love), and to New York to record Lesley Gore's hit single Young Love (listen) and the All About Love album. Lorber was also commissioned to record, with Brook Benton, the Burt Bacharach title song A House Is Not A Home (listen) for Paramount Pictures. Also, for the Mercury subsidiary Smash Records with independent producers Feldman, Goldstein & Gotterher (FGG), Lorber recorded the Angels' hit I Adore Him (listen) and various cuts for their follow-up albums.

6. Kapp Records: A&R Directors Al Stanton and, later, Tom Catalano, brought Lorber in to record the Top 5 Johnny Cymbal hit Mr. Bass Man (listen) and Teen Age Heaven (listen), Lenny Welch's Darling Take Me Back (listen) and Two Different Worlds (listen), and Ruby and the Romantics' classic Your Baby Doesn't Love You Anymore (listen). The follow-up hit albums were also created by Lorber.

7. With George Goldner: Industry legend Goldner hired Lorber for his recordings at Roulette and then his Gone / End labels, for which Lorber made Lou Christie's You And I Have The Right To Cry (listen) and other chart singles, Joey Dee albums (listen to Dance Dance Dance and Let's Party) and, for Gone, the Bobbettes (listen to Teach Me Tonight and Mr. Johnny Q), the Chantels (listen to To Live My Life Again and Mon Cherie Au Revoir), and Top 10 singles and albums for Ral Donner (listen to Half Heaven Half Heartache, To Love, and She's Everything).

8. With Hy Weiss: For this equally famous music pioneer, Lorber created hits for the Earls (listen to Eyes and Never), and Arthur Prysock (listen to My Special Prayer) for Weiss' Old Town Records.

9. Brunswick Records: Of all the many records Lorber made for Nat Tarnapol's Brunswick label, including many of those by Big Maybelle (listen to Cold Cold Heart) and the Clovers, Lorber's recordings with Jackie Wilson are today, in reissue, the most written about and historically important of the '63-'65 period of Wilson's career. Lorber basically combined a more pop-oriented rhythm against more traditional Gospel lines. Shake A Hand (listen) became a hit single, drawn from the Gospel duet album Lorber made with Wilson and Linda Hopkins. Other Wilson hits included Shake! Shake! Shake! (listen) which came from the multiple hit albums Lorber made for Wilson, including the Baby Workout LP (listen to Baby Workout). Lorber also wrote the arrangements for Wilson's famous 1963 Copacabana act and collaborated with Wilson on many songs, which were included in Wilson's singles and albums.

10. Connie Francis: Francis first hired Lorber to bring his newly-honed Nashville styles into her repertoire, whereby Lorber created the hit Blue Winter (listen). Other worldwide hits Lorber made with Francis include Spanish Nights And You (listen) and Be Anything (But Be Mine) (listen), and introduced the premier recording of Games That Lovers Play (listen), which was written especially for Francis.
OTHER HIGHLIGHTS
By 1964, now an established record producer, Lorber created the legendary group, the Mugwumps (listen to I'll Remember Tonight and Here It Is, Another Day) for Warner Bros. Records, which then split up to become the Lovin' Spoonful (for which Lorber produced Do You Believe In Magic (listen)). The other half of the group became The Mamas And The Papas. In 1967 Lorber, with MGM Records, established the "Boston Sound," where 200 albums were produced with such hit psychedelic artists as Orpheus (listen to Can't Find The Time) and Ultimate Spinach (listen to Sacrifice Of The Moon). During the same period Lorber released his highly successful "East / West" jazz / fusion album The Lotus Palace for Verve, featuring sitarist Colin Walcott (listen to Within You Without You). Lorber also composed many scores for ABC-TV specials, including "Hit The Surf," (listen to the Opening Theme) and BBC-TV specials with Anthony Newley.


---
A Few of ALAN LORBER's Own Other Personal Favorites
Run To My Lovin' Arms - Lenny Welch (listen)
Don't Come Cryin' To Me - Roy Hamilton (listen)
One By One The Roses Died - Playmates (listen)
Smiling By Day (Crying By Night) - Ronnie Dio & the Prophets (listen)


---
FOOTNOTE
The saga of Alan Lorber's musical career actually began somewhat earlier than the above resumé implies. In the mid-'50s, when he was "fresh out of High School" (to use Alan's own words), he was hired as Program Director for WMCA in New York where, among other things, he produced Murray the K. At that time the station, which later became a renowned musical powerhouse, was struggling to find its identity and a viable market. The man who has been credited with the turnaround was Alan Lorber.

Burt Sherwood has written a short piece about WMCA's evolution during this period, with a response from Alan himself. Read it here.

IMG Books has recently published Benny Allen Was A Star by Alan Lorber, a work of historical fiction that is largely autobiographical. Find out more and read an excerpt here

Orpheus Reborn Home Page


---